11 Teeth Ice Claws Crampons Anti Slip Traction Cleats for Kids with Carry Bag
Product Detail
Product Tags
About this item
Rubber+Steel
✅ Package Content: Children's Crampons × 1 pair (Only)
✅ Suitable for: Euro shoe size 26-35; unisex design fits most Sneakers, Climbing Shoes, Hiking boots, Trekking Shoes, etc.
✅ Built to Last --- 11 sharp stainless steel spikes are hardened to resist abrasion and slipping, dig into ground to provide strong grip and traction, and fit various terrains; steel chain enhances construction and also increases traction; Stretchy, resilient rubber harness holds shoes firmly and withstands cold weather
✅ Practical & Durable --- Hardened spikes, sturdy, rustproof, and abrasion-resistant. Comes with carry bag for easy storage and transport. Lightweight and compact, allowing you to carry it around easily
✅ Versatile: Unisex design fits most sneakers, climbing boots, hiking boots, trekking shoes, etc. Ideal for outdoor activities including hiking, camping, backpacking, trekking, river tracing, mountaineering, etc. Also comes in handy on snow-clad or icy roads, protects kids from slipping and collateral injuries
✅Widely used & Unisex:Take confident strides knowing your footing is always secure with Snow Traction Cleats. Tackle icy slopes, slippery driveways in the snow, river tracing and all manners of outdoor activities with this reliable footwear.Suitable for males and females of any age including teenagers, adults, elders. Used on angled terrain, ice roads, icy driveway, mud and wet grass, dangerous sections of trail, etc. Great for trail running, hiking, and ice fishing.
Product Specifications:
Package Information== Children's Crampons * 1 pair (Only)
Material Information== Rubber Harness+Steel Chains+Manganese Steel Spikes
Color Information== Red
Size Information==Suitable for Euro shoe size 22-29
Kindly Reminder:
Attention === These crampons are not designed for rock or ice climbing!
Note === We strongly suggest you compare detailed size chart with your own body size;
Color Difference === There might be a little difference between item and pictures shown on the screen for digital devices are in different condition;
Size Deviation === Hand-measured, please allow a slight deviation;
Service === .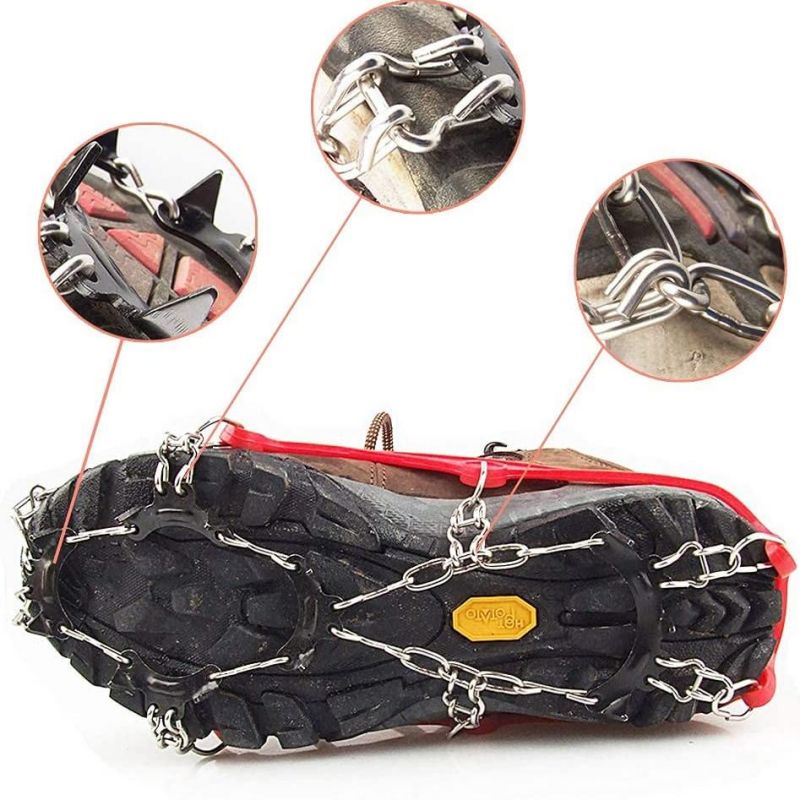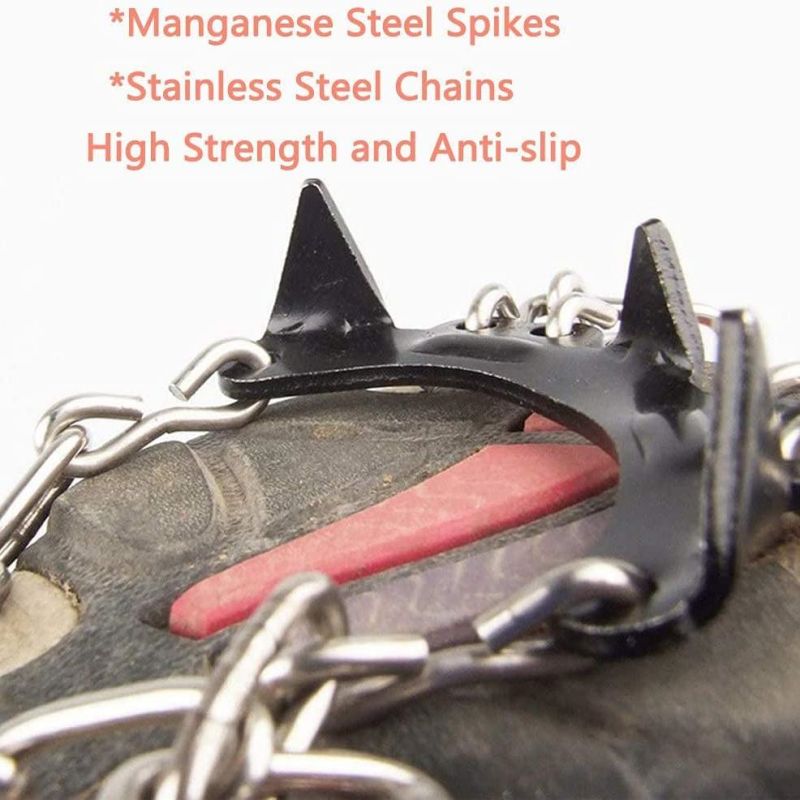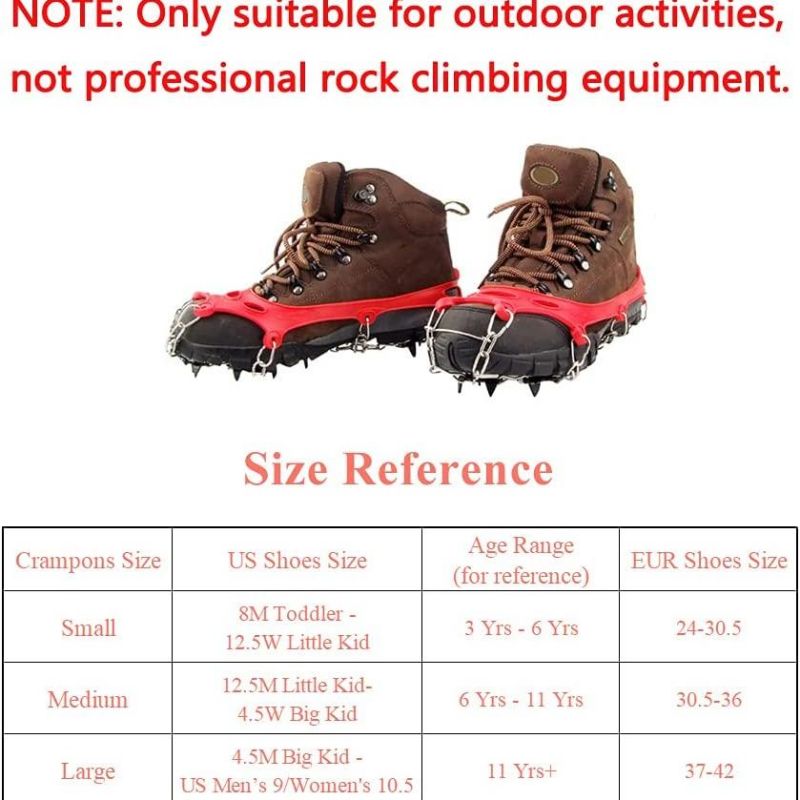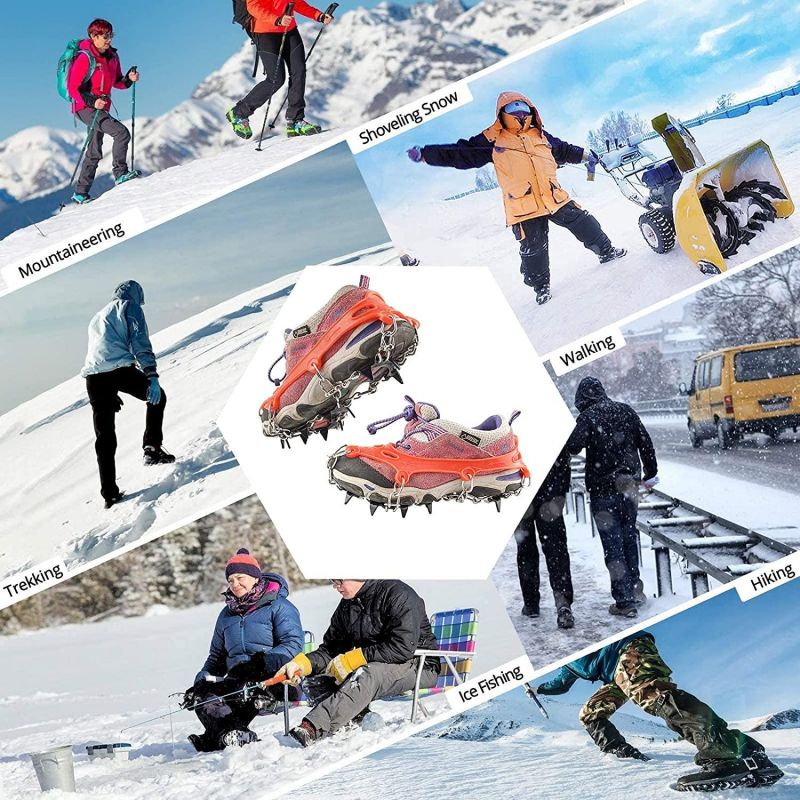 ---
Next:
12 Teeth Ice Crampons Winter Snow Boot Shoes Ice Gripper Anti-Skid Ice Spikes Snow Traction Cleats
---