Universal 10 studs non-slip crampons for outdoor
Product Detail
Product Tags
Description
SIZE: M [5.7*8.5 inch (US WOMEN:7-10/ US MEN:5-8)] **Fit for Men/Women, prevent slipping on snow and ice conditions, Anti Slip Crampons Slip-on Stretch Footwear.
Small---5.1*7.3 inch (US WOMEN:5-7/ US MEN:3-5); For Children
Medium--- 5.7*8.5 inch (US WOMEN:7-10/ US MEN:5-8);
Large--- 5.8*9 inch (US WOMEN:10-13/ US MEN:8-11);
X-Large---6.3*10.2 inch (US WOMEN:13-16/ US MEN:11-14).
Highly Stretchable Silicone Material: Made of durable silicone rubber thermoplastic elastomer+ special non-slip steel studs, it is more durable and not easy to break than ordinary TPE material. The ice snow grips is suitable for most shoes or boots. Till strong perform under -45 degree C.
The special Ground-gripping steel studs offer excellent traction on ice and snow.
Light weight constructions and folds up to fit in your pocket. SATISFACTION & QUALITY :Comes with One-year warranty, any issue please contact us for replacement or refund.
Easy on/off to fit boots, sneakers, casual and dress shoes--Great for ice fishing, hunting, walking, jogging, climbing, walking, hiking, running, snow shoveling, etc.
Package: 1 Pair Ice&Snow Grips, opp, non-woven bag or customized.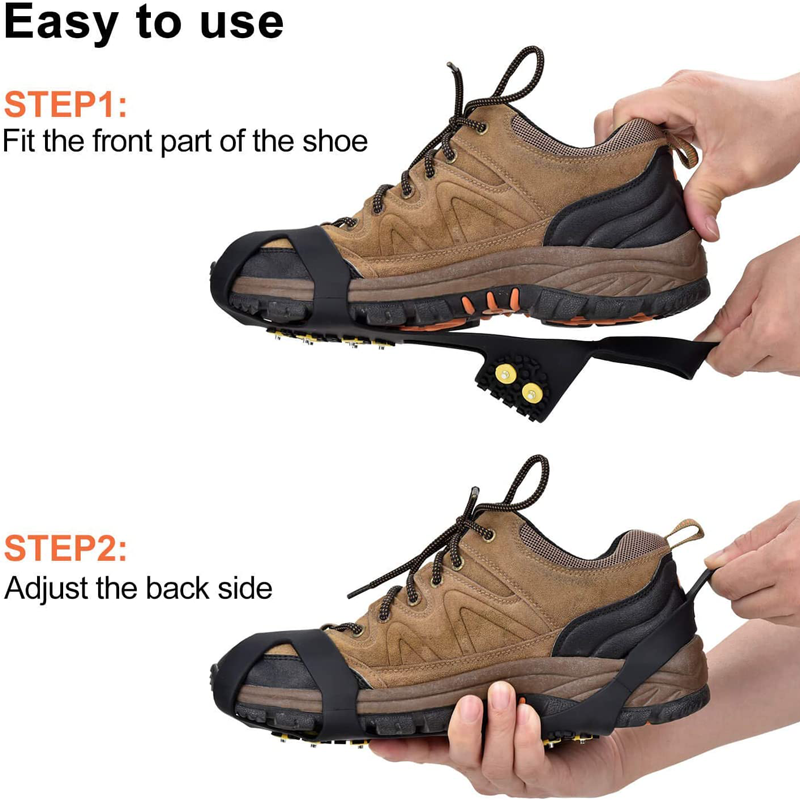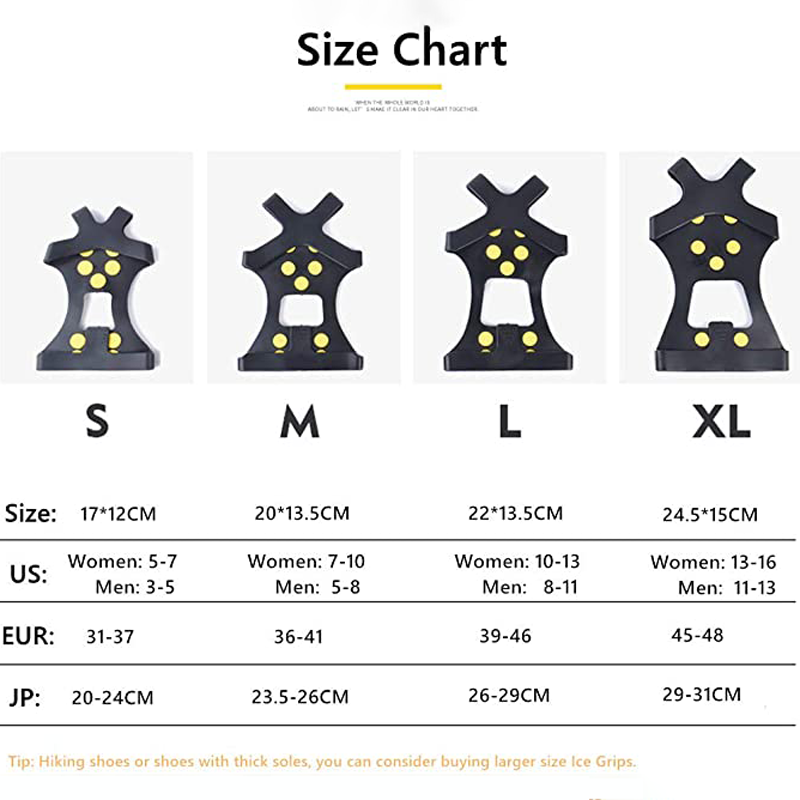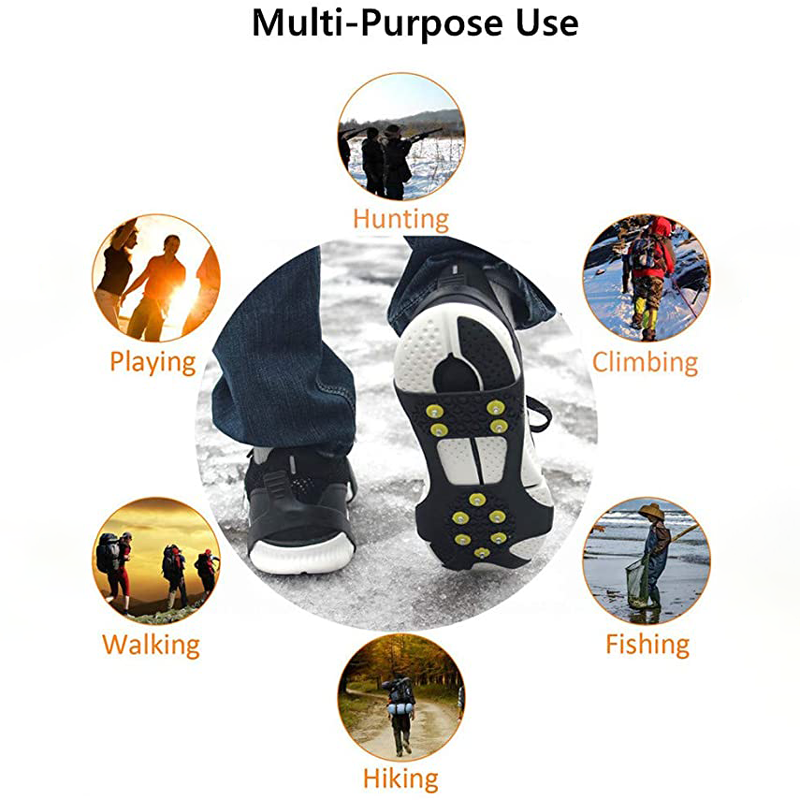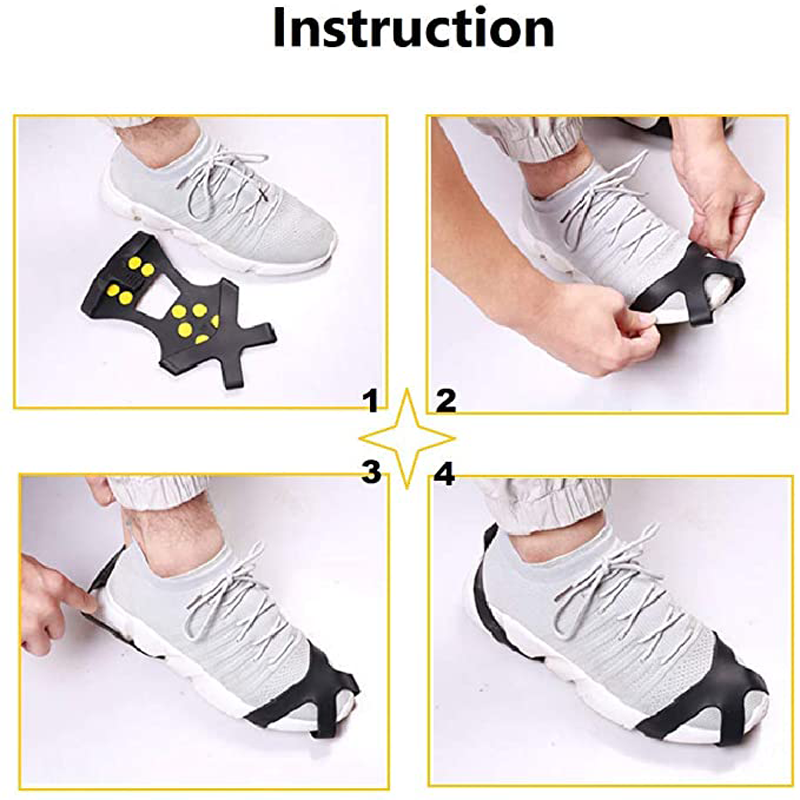 Product Advantages
1. Suitable for most footwear.
2. Perfect for ice, snow, wet sidewalks and rocks.
3. Non-slip 10 Studs Crampons provides excellent traction and grip on ice and snow.
4. The elastomeric drawstring can be easily stretched to fit most footwear.
5. The 10 Studs anti-slip design provides excellent slip resistance while also featuring lightweight features.
6. Silicone, elastic and lightweight.
7. Wrap the sole securely.
How to use
1. Carefully fasten the grabbers to your shoes, starting with the large sizes are required if wearing over winter footwear.
2. We suggest that the grabbers are used only on snow or ice to prevent wear to the studs.
3. Always clean the grabbers with a dry cloth after using. Store the grabbers in a cool and dry place, out of direct sunlight

---
---